• Our clinic is licensed for legal Abortion Services.

• The abortion services procedure is painless. It is done under sedation and is safe. General anaesthesia may be arranged on request.

• Abortion procedures take about 15 to 30 minutes.

• Patients rest in the recovery room for about 2 hours and back to normal. Estimated cost for abortion procedure ranges from S$900 onwards (Medisave claim S$900 can be used) depending on the size.

• Not including other charges stated below:
• consultation
• medicine
• anaesthesia
• operating theatre
• ultrasound scan

• Medisave and financial assistant can be arranged

Abortion Procedures
1. Please call 6736 3331 for an appointment. Please bring with you your identity card (NRIC) or passport and CPF statement (for medisave claim) to the clinic for the appointment.

2. After seeing the doctor, you will be counselled for the procedure with the viewing of the counselling tape.

3. After counselling, you can go through the procedure after 48 hours for citizens. Proper consideration with all options is advised.

4. The procedure of TOP usually takes about 15-30 minutes and patient will rest for 1-2 hours after the procedure for observation and for recovery from the sedation. It is safe and painless.

5. You are recommended to have a post operation examination in 1 week and 4 weeks when you should experience a new menstrual cycle. The urine will take 2-3 weeks to turn negative.

6. Please come to the A & E of the Mt Elizabeth Hospital (Tel: 6731 2218) should you have an emergency or call us at 6736 3331/ 9819 9411 to contact Dr Lien.
The doctor will attend to you. You may also call the clinic during office hours at 6736 3331 for any help.

Termination of Pregnancy

It is the most widely used method of birth control in the world. It has been estimated that nearly 1 in 4 pregnancies are terminated, many illegally. There has been a gradual liberalization of laws, and today well over 75% of the world's population live in countries where abortion is to a greater or lesser extent legal. Different countries have different laws. The limit varies from 20 to 24 weeks in various countries. In Singapore, it is legal on socio-medical ground. The legal limit is 24 weeks pregnancy.

Types of Abortion

1. Menstrual regulation - also known as interception, and menstrual suction. This is a pre-emptive abortion technique, meaning that it can be performed for up to 2 weeks after a missed period, even before a pregnancy can be positively confirmed. This term was used in the seventies when the status of missed period was not known. With modern easily available diagnostic pregnancy test and ultrasound, it is replaced by Suction aspiration.

2. Suction aspiration - also called vacuum curettage or STOP (suction termination of pregnancy). Sometimes it is done with the abortion procedure called D & C (dilation and curettage). This is similar to the above but using a bigger constant suction machine. It is meant for pregnancies less than 14 weeks. This is one of the safest and simplest method in surgical procedure.

3. Prostagladins - this is a medication to induce early labour as suction is not easy to perform for bigger pregnancies. It can be used till 24 weeks, the legal limit in Singapore.

4. Hysterotomy - this is used in cases where prostagladin method fails. The fetus is surgically removed in a process similar to Caesarean section. This is not often done as the above method usually works well.

5. Medical abortion - may best be carried out in pregnancy less than 6 weeks.

The medical abortion causing miscarriage is not as safe as suction termination of pregnancy. It is not recommended.

First of all, pharmaceutical company do not have license to import Mifepristone (RU 486), one of the two medicines for medical abortion, to Singapore.

Also, medical abortion tends to be incomplete and heavy bleeding from miscarriage were reported.

It uses a combination of two medications. Mifepristone (RU486) and Misoprostol (a Prostagladin). Unfortunately, RU486 is not available in Singapore. Just using Misoprotol alone may not be that effective.

Medical abortion often causes heavier bleeding than a menstrual period, and other side effects that can be more difficult than a surgical procedure. Some women experience gastrointestinal discomfort like cramps, nausea and diarrhoea, weakness, dizziness, chills, rigor and headaches.

The miscarriage may also be incomplete requiring an evacuation of the uterus surgically.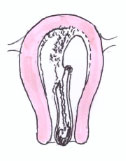 Illegal Practice of Termination of Pregnancy

"Back-street" and self-induced abortions are still present - worldwide they cause 30-50% of all maternal deaths from pregnancy and childbirth. With the improvement of childbirth, this figure may be even higher. The complications arise mainly from unhygienic and unskillful termination of pregnancy resulting in infection, injuries and hemorrhage.